On the 26th of October 2020, all HGVs over 12 tonnes will need a Direct Vision Standard safety permit to enter or operate in the Greater London area. If the vehicle falls short of the DVS then they will need to hold a safety permit and to obtain these ratings the operator must contact their manufacturer. All vehicles will have a star system based on the type and model of the vehicle and it is now a necessity following the 3 years notice HGV companies have had to prepare.
---
DVS Regulations now in full force
26th October 2020
"The Mayor has adopted Vision Zero for road danger in London, aiming for all deaths and serious injuries from road collisions to be eliminated from London's streets by 2041. Vision Zero means ensuring the street environment incorporates safe speeds, safe behaviours, safe street design and safe vehicles to target road danger at its source." (source)
The DVS is in place to ensure that drivers are able to see clearly/directly through their cab windows and mirrors. The rating is based on 0 (lowest) and 5 (highest) and aims to eliminate blind spots from HGVs thus reducing the risk to cyclists, pedestrians and other obstructions outside of the vehicle. It's no surprise as a road user that HGVs have issues when turning with blind spots and many will have signs attached to the rear of the vehicle warning passers-by and cyclists.
You can apply for the safety permit here: https://tfl.gov.uk/modes/driving/dvs-safety-permit-application/
The diagram below shows perfectly the blindspots most HGVs face whilst driving. This was taken from page 9 of the HGV Safety Permit Guidance Doc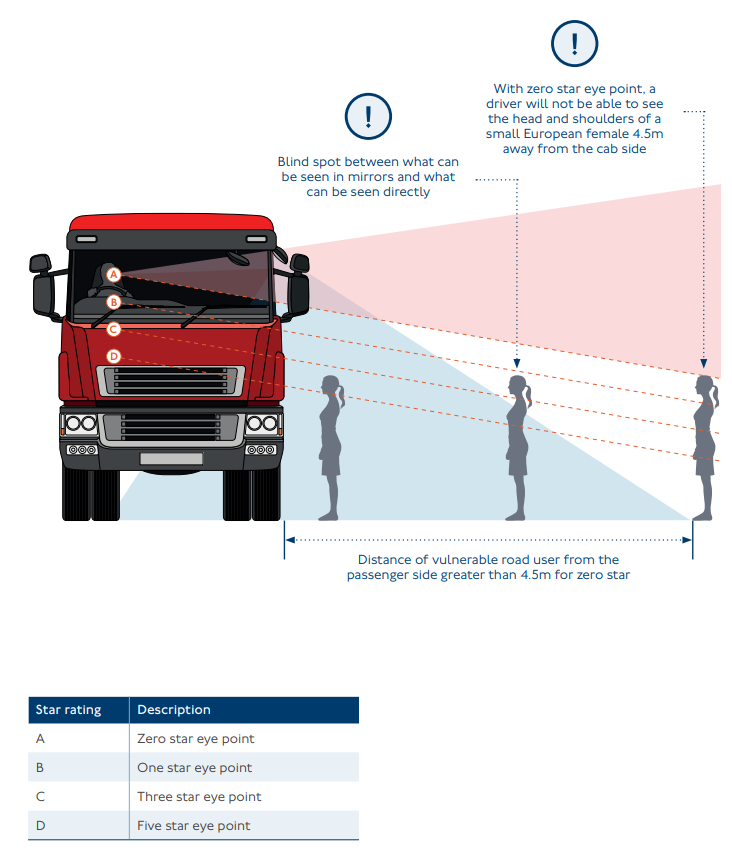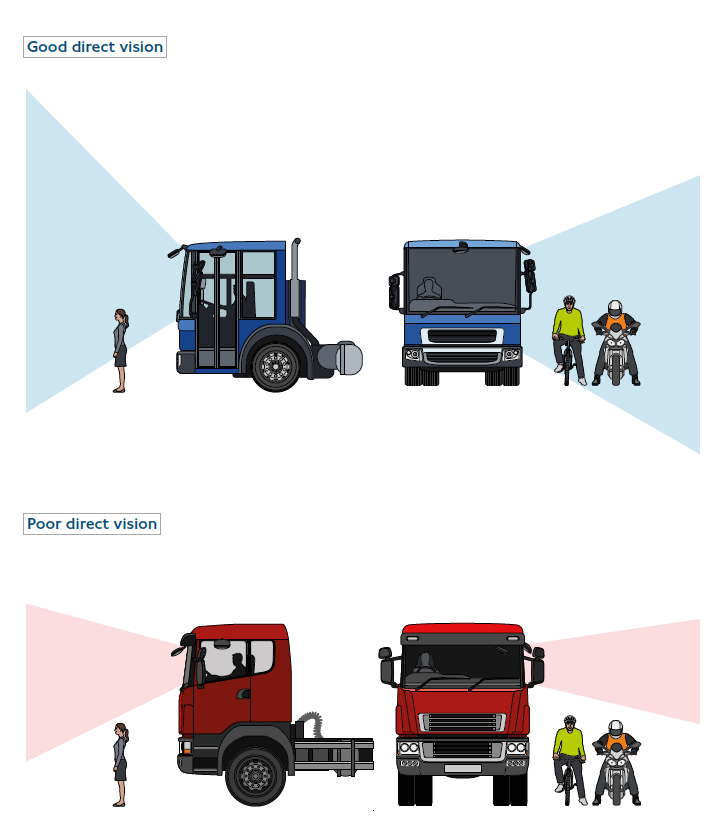 "Do I need a safety permit? All HGVs more than 12 tonnes entering or operating in Greater London from 26 October 2020 will need to hold a safety permit. We will issue these permits from October 2019. The scheme will be enforced from 26 October 2020 across Greater London, 24 hours a day, seven days a week. This is the same date heavy vehicles will need to meet even stronger Low Emission Zone (LEZ) standards London-wide." (tfl.gov.uk/direct-vision-HGVs)
Enforcement and penalties
From 26 October 2020, if you drive an HGV within Greater London without a valid permit you may receive a penalty charge notice (PCN) of up to £550 (reduced to £275 if paid within 14 days).
They will also revoke or suspend a permit if a vehicle that has been granted a permit is later found to be in breach of the permit terms.
---