Look below to find our latest blogs.
Face/Object-Blurring Tool – Quick Start
In recent months, Timespace has launched a FREE new motion tracking software exclusive to PCLink Suite 8.0.

This software allows you to track facial features and blur them in an instant without having to purchase external video editing software.
Due to GDPR legislation surrounding CCTV equipment, it is vital to blur out subjects not involved in incidents and this software is quick and easy to use.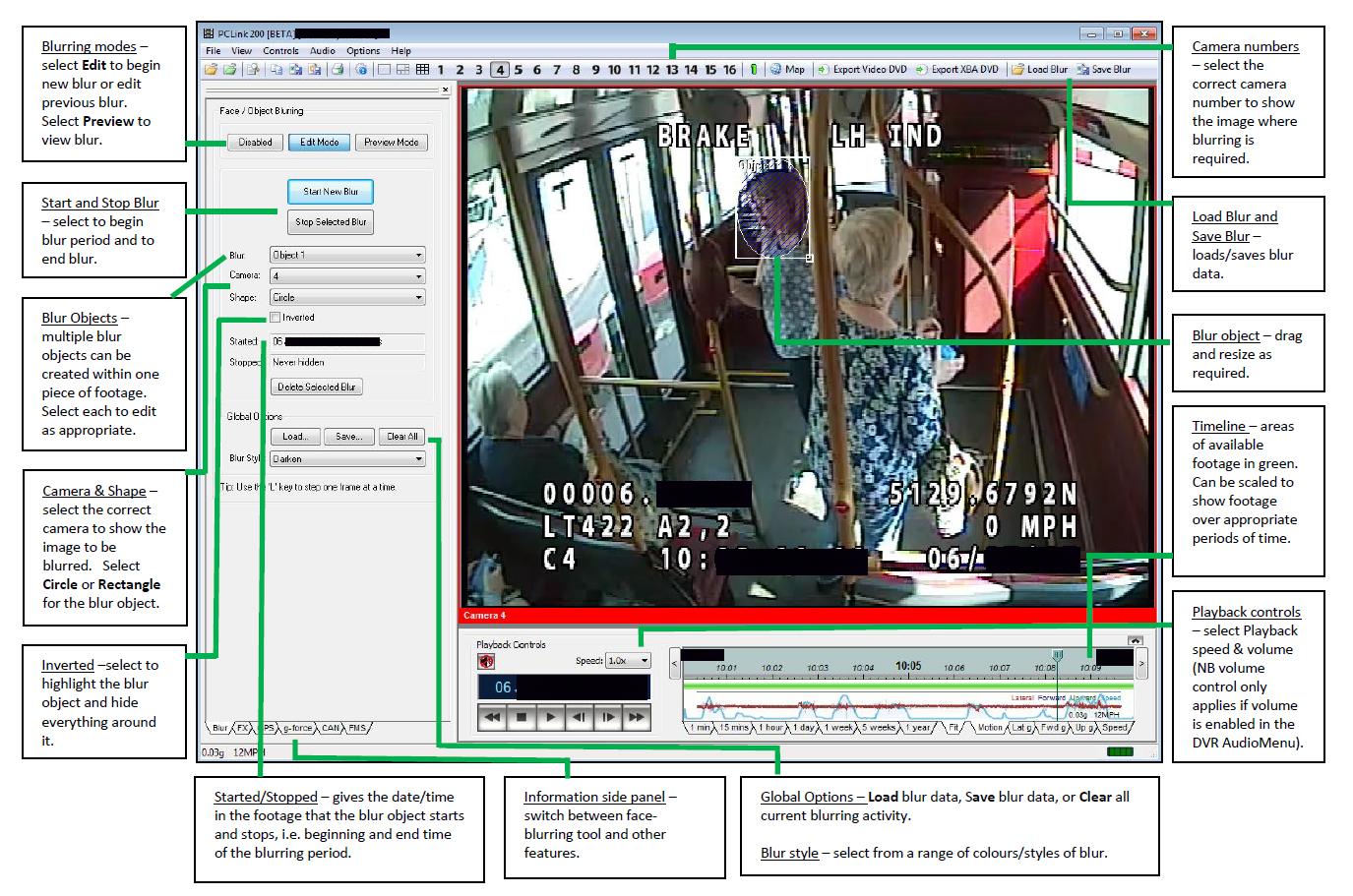 Van CCTV - Everything you need to know
Protecting your van has never been more important with van thefts on the rise. Your tools and equipment are expensive and a simple CCTV system installed in your van can not only protect your equipment but can protect you personally when driving.
1. Select camera number to show the required image.
2. Use the Timeline to select the start of the required blurring period in the footage.
3. Select Start New Blur. The blurred object will appear at the current playback time. Drag to re-position and re-size as required to cover the area to be blurred.
4. To make the blur object follow the movement of the person either:
a) if frame by frame adjustment is required, use the "L" key to step one frame at a time; or
b) reduce the playback Speed, eg to x0.2. Press (play button - sideways triangle) to play the footage. As the footage plays, select the blur object with the mouse and drag the blur object to follow the person. If necessary, stop the footage and resize or reposition the blur object.
5. When you reach the end of the period where blurring is required, select Stop Selected Blur.
6. To view your blurring, select Face/Object Blurring Preview mode, rewind the footage to the time-blurring Started, and press (play button). Return to Edit mode and amend size/position of blur object if necessary.
7. Select Save to save your blur object details for later use with xba files, or use the File menu's Export Video File to render blurred footage into a standard video file (mp4, avi etc). Please note that the blurred footage cannot be rendered back into an .xba file.
PCLink Face/Object-Blurring Tool can be used with Timespace X200, X300, V400 and V500 DVRs.
With social media videos going viral and the news currently focused on van theft, protecting your livelihood has never been so big. Small businesses are suffering from this 'epidemic' of van tool thefts and this news article states it's due to a new skeleton key.
Van owners are being forced to look at additional security when leaving their vehicles unguarded or face the reality of not having work the following day.
Figures as high as one van every 23 minutes is broken into in the UK and that is a 30% increase on the previous year.

One study showed that individuals a few years ago would apply pressure on the van door with their knees before peeling the door down from the top. It has now taken an even scarier turn as these thieves are using electronic key fobs to break into vehicles and show no signs of damage (these fobs are being sold for £30 on stores such as Amazon and eBay).
How can you ensure your van is more secure?
Firstly let's cover the obvious, when you leave any vehicle unattended you must firstly lock it. This will prevent the casual thieves from breaking in and taking anything that you wouldn't want to lose.

Secondly, take your tools out of your van or just cover them over. Either way, they shouldn't be visible when walking past. If your van looks like a shop window then you can't expect your tools to go unnoticed. This may sound obvious but a lot of people forget or simply don't think about this as being a big issue. Purchase a blanket and hide the equipment that you don't want to be seen.

Thirdly, moving into the more techy side, a nice to have is CCTV. Kit out all of your vans with CCTV!
The cost of kitting your van out with CCTV far outweighs the cost of replacing countless tools and hours of work when they are taken. It will also oddly save you a little money when ensuring your tools and van as it will be seen as less of a risk.

Lastly, parking location seems an odd one but where you park your van can greatly impact the risk of it being broken into. Backstreets and car parks are the worst for having the contents of your van taken, the best places are well-lit areas on public roads.

Top 5 tool theft areas:
1) London
2) Sheffield
3) Birmingham
4) Leicester
5) Chelmsford
What do the police suggest when securing your van?
"Leicestershire Police is warning local van owners to be vigilant after a recent increase in tool theft from vans.
Van owners are being urged to follow these simple steps to prevent them from becoming a victim:
if you are staying in a hotel, where possible remove your tools from your van and keep them in your room overnight

don't assume your vehicle has locked properly using a key fob lock. Criminals can use devices which block the signal. Always check your doors are locked before leaving your vehicle unattended

if you have a garage, use it. If your van is parked on a driveway, consider installing security lighting. If neither of these applies, try to park in well-lit areas

consider alarming the vehicle or fitting an internal security cage when tools and equipment are not being used, ensure they are kept securely in a lockable store rather than in your vehicle

consider whether the storage area can be alarmed. If the equipment is portable, take it with you

don't leave tools in vehicles unattended or overnight, and place a sign in the window stating they have been removed

lock/immobilise vehicles and equipment when not in use

visibly mark your machinery and tools using an engraving or chemical etching kit or use a forensic marking kit. Place a sticker in your window to say you have done so - the signage alone can be a very effective deterrent

keep a list of tools, together with serial numbers and any identifying marks. You can do this at www.immobilise.com. This will help to trace them back to you if they are recovered

consider the use of security patrols around building sites

keep the access to building sites secure – fences and gates help prevent unauthorised entry

if you have any suspicious visitors on your site please call the Police non-emergency number 101."

What can we provide? - SURE can provide equipment to fit all budgets and applications, including top-of-the-line British manufactured Timespace or a complete custom one-box solution.
Every SURE Transport system is custom designed to meet your exact requirements and can be delivered to you at a time and place that suits you. Alternately we can arrange one of our expert installers to fit at any location in the UK.

As well as a range of hardware, SURE can provide software to manage your vehicles and data contacts for remote access.
Call us on 01949 836 990 to discuss your needs.