Who are we? - To anyone who buys CCTV for transport, we are a knowledgeable and experienced distributor that loves to offer more, because we're dedicated.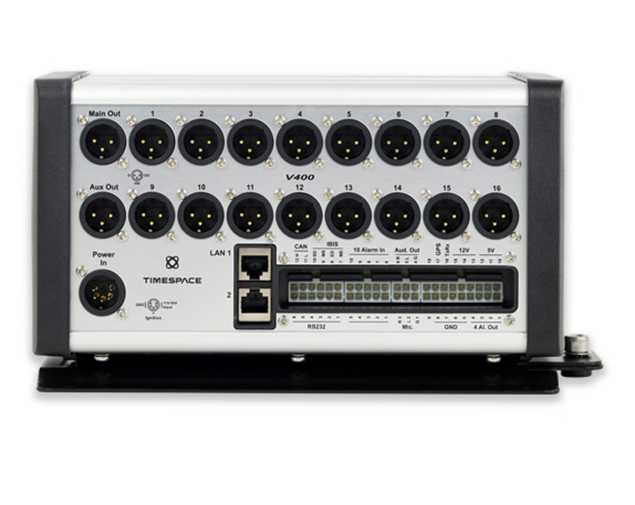 Timespace DVR
DVRV400 (8,12 or 16)
• 8, 12 or 16 independent analogue video channels
• 1x 1080p HD IP camera channel
• Up to 2TB hard-drive w/ additional 128GB SD card
• H.264 compression
• File password protection and encryption settings
• Bridge Alert - Timespace low bridge warning system
• Diagnostic reporting with dual LAN ports
• Quick install, compact, integrated one box solution
• Built-in power supply
• 
Microphone pre-amp, and GSensor
• Easy-audit and Playback with Local Reviewer
• Improved file system recovery from power interruption            
Buy Now
The Timespace V400 provides users with an innovative solution for vehicle CCTV, the culmination of many years' experience in developing reliable, high performance and cost-effective vehicle CCTV digital recorders for use on public transport.
Recordings are made on a removable hard disk cartridge inserted in the V400. Optionally recordings can be written to a removable SD card.
The recordings can be accessed by connecting the cartridge to a PC using the Timespace USB interface kit or cartridge station. Timespace PCLink application is a proprietary reading and archiving software package used to review the recordings.
The X301 Reviewer is used to program the menu settings on the V400, check camera views and list the recorded files on the installed Hard Disk Cartridge.
The V400's integral G Sensor records the vehicle's movement for X, Y & Z axis.
Built to last, the V400 uses industry proven power and signal connectors with short circuit protected camera inputs, whilst the inbuilt timer shutdown with hibernate mode using Wi-Fi option wake on LAN provides an efficient solution for uploading incident footage and system software updates.
Industry-leading PCLink viewing software is compatible with all Timespace recorders and displays the V400 inbuilt G-sensor and optional GPS data, providing dynamic map location to assist with driver training, leading to reduced fuel costs and leading to improved passenger comfort.
Using watermarking with SHA-256 authenticated digital signature,
embedded vehicle data (indicators, brakes etc.) and GPS, date, time,
speed and location, the V400 recorder footage meets the evidential requirements when needed for court proceedings.

Every SURE Transport system is custom designed to meet your exact requirements and can be delivered to you at a time and place that suits you. Alternately we can arrange one of our expert installers to fit at any location in the UK.

As well as a range of hardware, SURE can provide software to manage your vehicles and data contacts for remote access.
Call us on 01949 836 990 to discuss your needs.