HGV CCTV Equipment We Recommend
Kitting out your fleet of Heavy Goods Vehicles with the latest in CCTV technology is what we can offer your business. 
Stortech dome cameras have been designed with the vehicle in mind. Their low profile, flush-mounted design means that they are harder to remove accidentally and their perspex outer dome means the camera lens is protected from movement, vandalism and dirt. These make the Stortech dome cameras great for HGVs as cameras are often knocked off during operation.
With a heavy goods vehicle it can vary massively on how many cameras are required for the vehicle. Some customers may want 1-4 cameras and others may want to run 6+. The MDVR range can support up to 9 cameras with the MDVR9 supporting 8 AHD and 1 IP camera. The Timespace V400, although not HD, can support up to 16 cameras making this DVR a worthy contender in vehicle CCTV.
Get a Quote for your Vehicle Today!
Everything you Need to Know About HGV CCTV (Direct Vision Standard)
On the 26th of October 2020, all HGVs over 12 tonnes will need a Direct Vision Standard safety permit to enter or operate in the Greater London area. If the vehicle falls short of the DVS then they will need to hold a safety permit and to obtain these ratings the operator must contact their manufacturer. 
All vehicles will have a star system based on the type and model of the vehicle and it is now a necessity following the 3 years notice HGV companies have had to prepare.
Direct Vision Standard is to identify how much a driver can see directly through their cab windows to ensure the safety of vunerable road users. 
 "HGVs were involved in 63% of fatal collisions with cyclists and 25% of pedestrian deaths. This is despite HGVs making up only 4% of miles driven in London city."
Frequently Asked Questions Regarding HGV CCTV
Sadly, CCTV installation on a HGV is not a necessity however it does drastically aid in protecting other road users and the driver of the vehicle. To work alongside the Direct Vision Standards set in London we offer our wing mirror camera system which gives a wide dynamic range for low light conditions, greater field of view and the mirrors are internal to help prevent collisions (SUREVIEW wing mirror).
What do I Need to Consider Regarding Placement?
The first thing you need to consider is the placement and position of your camera, what are you looking to capture and where do you want the wires to run (if the DVR is hardwired into the cameras). 
SUREVIEW monitors are fitted into the drivers cab with the compact cameras fitted to the sides of the vehicle. Then with HGV vehicles you have the option of cab cameras or dome cameras where generally two would be situated externally, two in the back of the vehicle where the goods are kept and one in the cab which is driver facing.
What Other Accessories Should I Consider?
Another good option for HGVs would be the 360 system we offer here. This system acts as a drivers aid and offers a birds-eye view of the vehicle so that the driver can monitor their surroundings whilst maneuvering.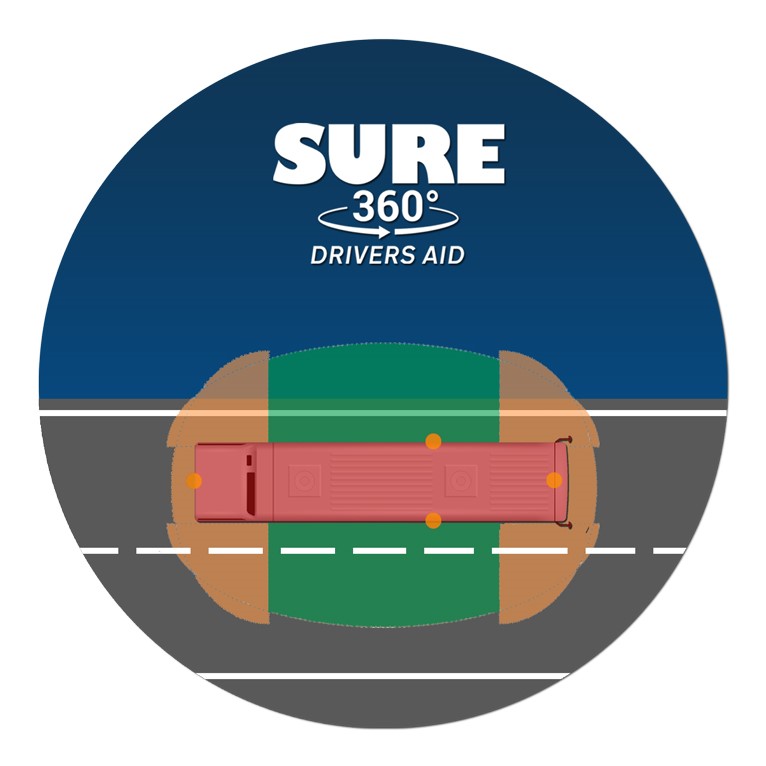 Where Will My Cameras Face?
When looking into heavy goods vehicle CCTV it is important to know what you are wanting to capture and how many cameras are required to capture the necessary footage. On the below diagram labelled "HGV Schematic CCTV Placement" there is an example of what your vehicle may look like. 
(1) The external forward facing camera which will capture other road users at the front of the vehicle.
(2) The internal camera which will monitor the goods kept inside the vehicle and will be useful to capture burglary/vandalism inside the vehicle.
(3) The side-view camera, important for monitoring traffic/pedestrians on the left of the vehicle.
(4) The internal cab-view camera, used for monitoring drivers behaviour (can be used in court/legal cases where the driver is blamed)
(5) Rear facing external camera for monitoring vehicles at the rear and capturing those entering the internal storage area.
(6) Right-side external camera for monitoring the right side of the vehicle (similarly to the left camera).
HGV Schematic CCTV Placement


SURE MDVR4S & MDVR4
The MDVR4 and MDVR4S are 4 channel, high definition digital video recorders fit for the transport industry. These DVRs are built to last with their airtight, dust resistant and vibration resistant casing. The MDVR4 / 4S can both come with built in GPS, Wi-Fi and 4G data for camera live viewing and tracking. These 4 channel DVRs are better suited for smaller vehicles such as vans, cars and emergency vehicles and offer easy installation with their plug and play approach to setting up.
| | |
| --- | --- |
| Available Channels (MDVR4) (MDVR4S) | |
| | |
| | |
| | File Password Protection and Encrypted |
| | (2TB HDD + 128GB SSD) (128GB SSD + 128GB SSD) |
| | |
| | |
| | |
| | |
| | |
| | |
| | |
| | |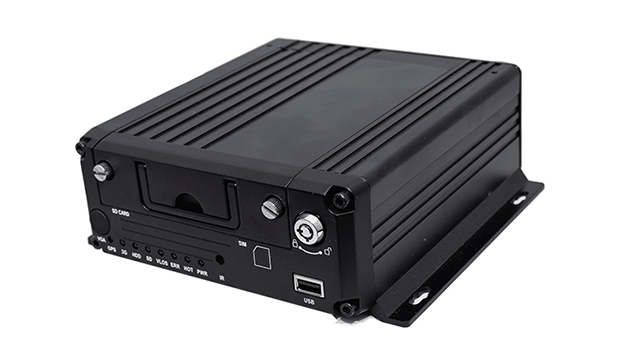 MDVR4 (W3G) (W4G)
○ 4 channels
○ 720p AHD camera support
○ Optional GPS, WiFi & 4G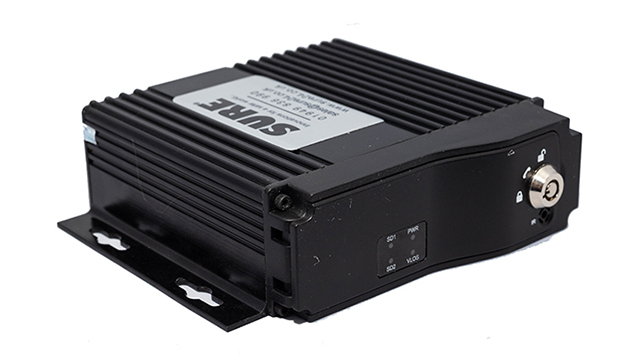 MDVR4S (W3G) (W4G)
○ 4 channels
○ 720p AHD camera support
○ Optional GPS, WiFi &4G
Analogue High Definition Vehicle Cameras
Stortech High-Definition Analogue (AHD)
Stortech offer two analogue high-definition dome cameras for vehicle fitting which are e-marked and produce 960p footage. 
960p HD Resolution: 960p also known as Super XGA is high definition footage captured in a 4:3 aspect ratio.


IP67 Weatherproofing: This range is protected with up to Ingress Protection IP67 making all three of these Stortech domes useful for both indoor and outdoor fitting. 


Can be Wedge or Flush Mounted: Often when fitting these dome cameras to a vehicle we would use a wedge to create the ideal camera angle so that you can capture a variety of different images where passengers are present. 
D057-AHD-S With 850nm of Infrared Radiation
850nm IR: 850nm is 30% more effective when illuminating over distance than its covert IR counterpart, however, it will produce a faint red glow which could be mistaken for a brake light. We recommend not using this camera on the outside rear of the vehicle and generally this camera would be used internally where dark spots occur.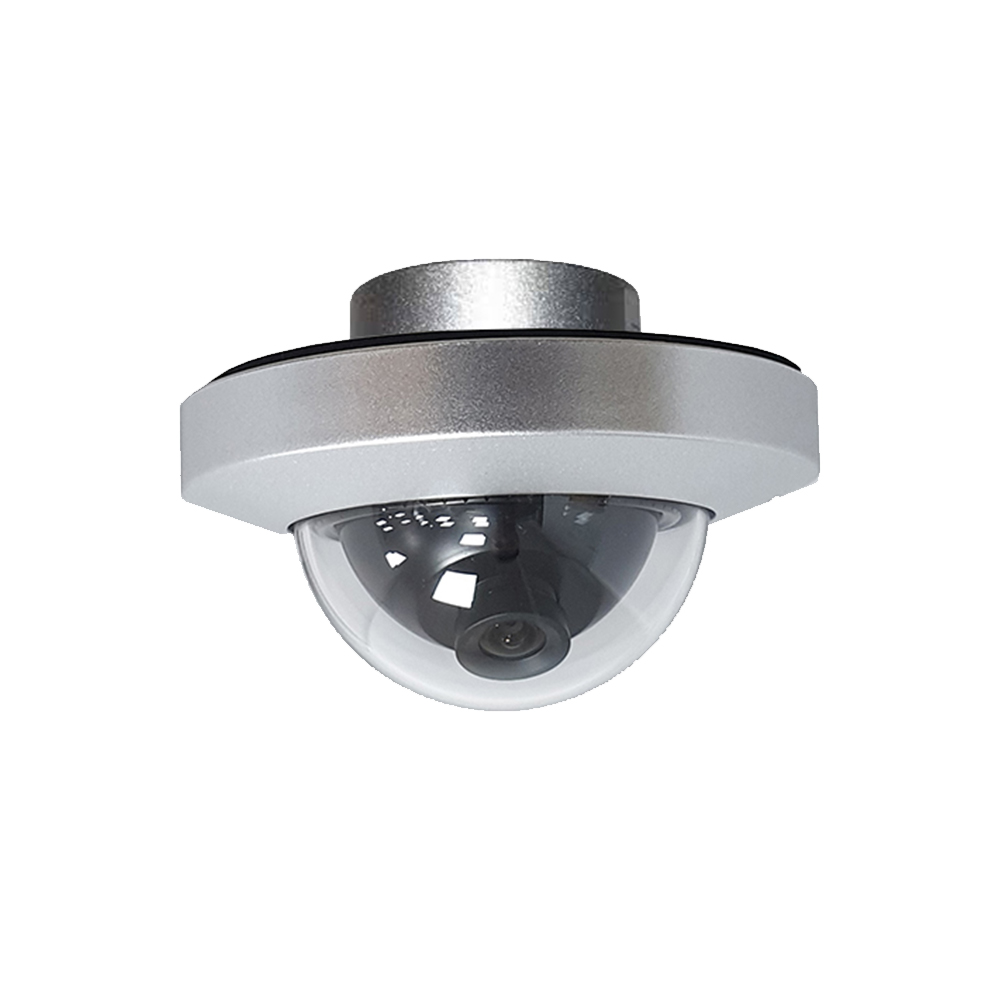 HD Dome Camera
○ Stortech D056C650-AHD
○ 2.5mm Lens
○ 960p HD Resolution
○ IR Cut Filter
○ AHD CMOS Sensor
○ IP67 Weatherproofing
○ Flush/Wedge Mounted
○ E-Marked
Find out more >>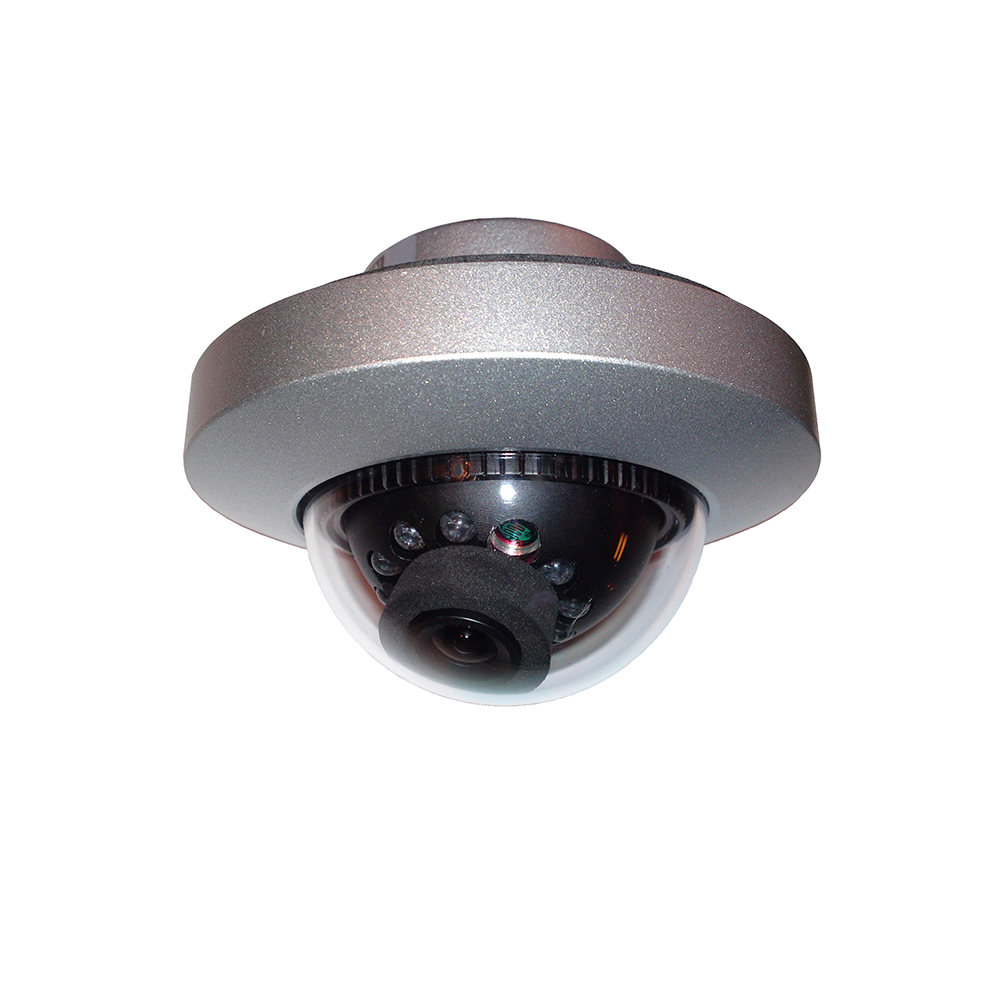 HD IR Dome Camera
○ Stortech D057-AHD-S
○ 2.5 or 3.6mm Lens
○ 850nm Infrared Radiation
○ 960p HD Resolution
○ CMOS Sensor
○ IP67 Weatherproofing
○ Flush/Wedge Mounted
○ E-Marked
Find out more >>
Miniature Cab Cameras
Analogue High-Definition Cab Cameras
The driver's cab and the rear storage of a vehicle are often fitted with a more compact cab camera. The benefit of using the cab cameras is that the footage recorded is captured in high-definition and is easily connected to our MDVR range for quick installation. This means you are able to identify people entering and exiting the vehicle as well as monitoring the driver's behaviour whilst operating a van, HGV or taxi.
On the SURE Transport website, we offer CCTV kits that have been pre-built for van and HGV use. We offer two 4 camera kits, one with a hard-drive and one which uses SD cards. For more information click here
Cab Camera Benefits
Compact Camera

Integration with Other On-Board Systems

High-Definition Recording (HD)

Tilt Adjustment for Ideal Recording Angles

IP67 Weatherproofing

Plug and Play / Easy Installation

Lightweight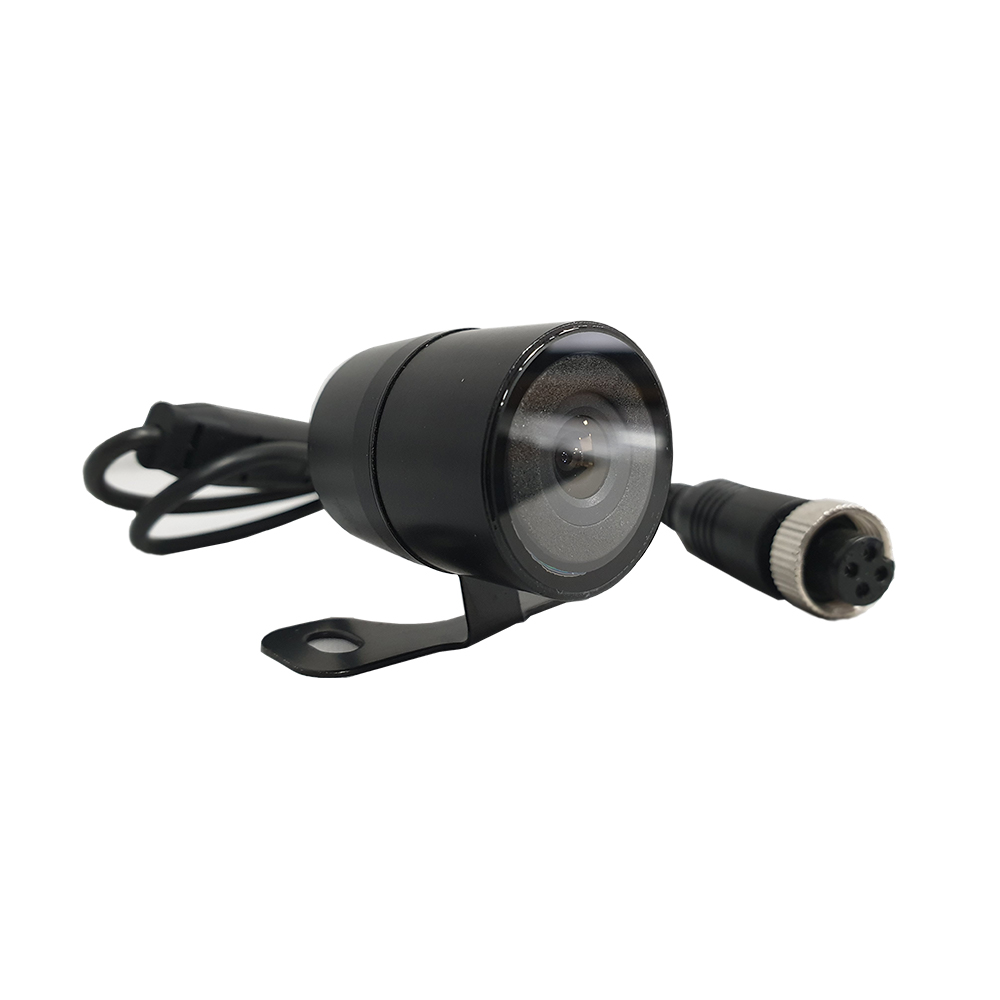 Mini Cab Camera
○ ST815
○ 1/4" CMOS Sensor AR0141 
○ 1.0M pixels 
○ Lens F2.3mm Standard 
○ IP67 Weatherproofing 
○ TV System: PAL 
○ 1280(H)*720(V) 
○ Tilt Adjusting -52°~+52°
Find out more >>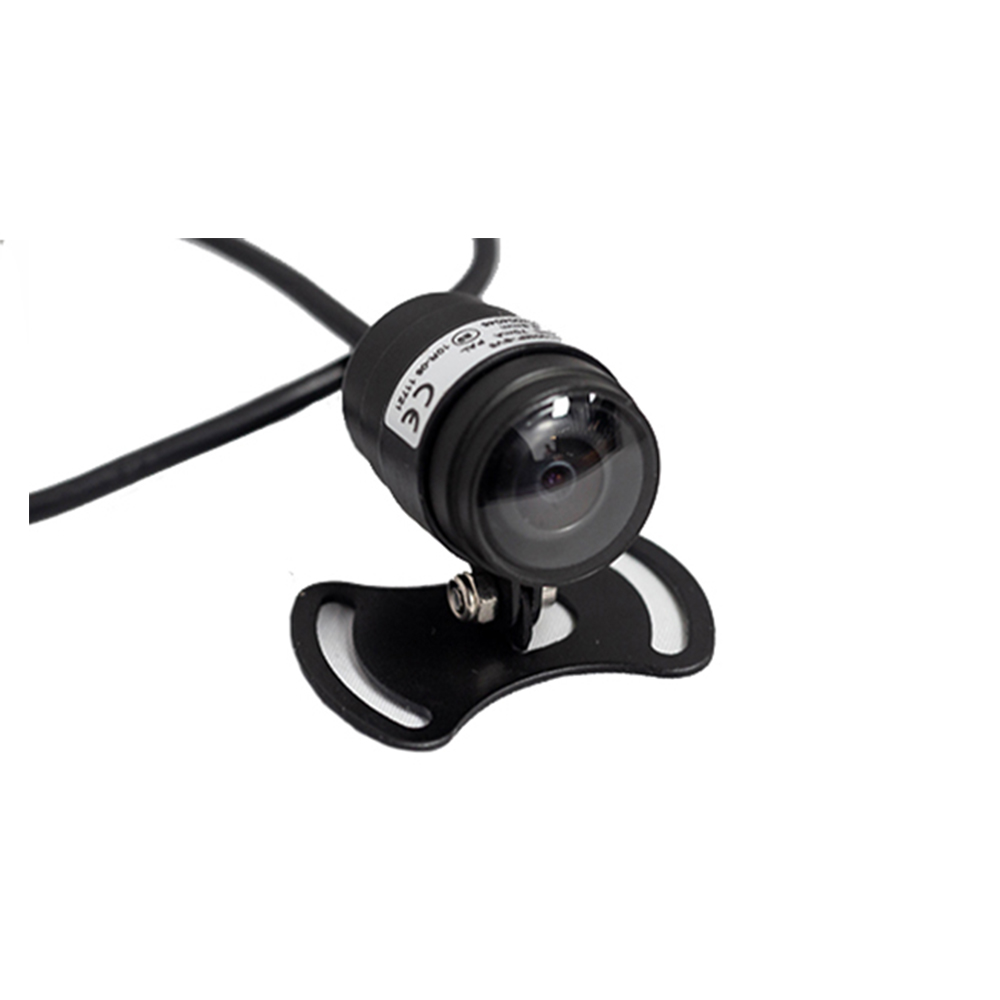 Mini Cab Camera
○ SV6-2.3AHD
○ 1/4" CMOS sensor AR0141 
○  TV System: PAL  
○ 1280(H)*720(V) 
○ 1.0M pixels 
○ F2.3mm Standard Lens 
○ 12V DC ±10% 
○ IP67 weatherproofing
Find out more >>
SURE MDVR8
| | |
| --- | --- |
| | |
| | |
| | |
| | |
| | File Password Protection and Encrypted |
| | |
| | |
| | |
| | |
| | |
| | |
| | |
| | |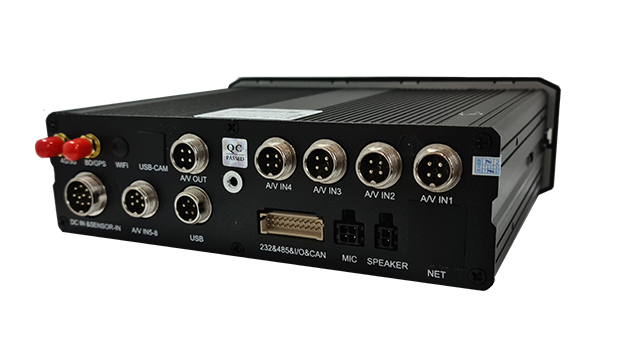 MDVR8 (W3G) (W4G)
○ 8 channels
○ 720p AHD camera support
○ Optional GPS, WiFi & 4G
Get in Touch with us
Get in touch to request a quote for CCTV on your vehicle!
CCTV Monitors and Accessories
Software and Regulations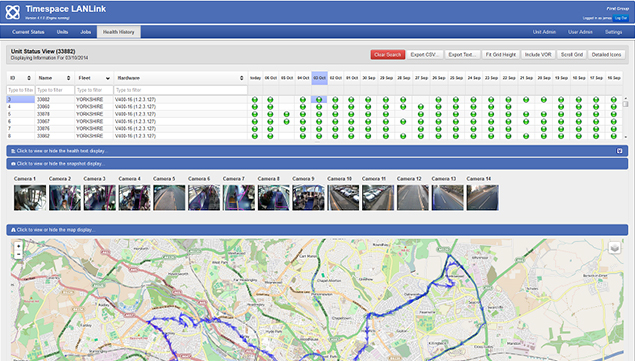 Timespace LANLink
○ Tracking and route info
○ Download video footage
○ CAN data (schedule repairs)
○ In-browser playback
○ CCTV LED health monitoring
○ Camera images
Find out more >>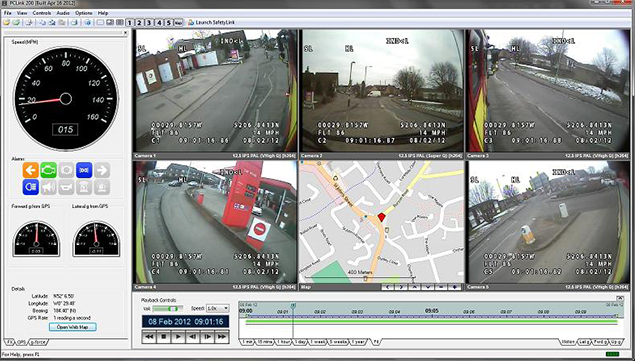 Timespace PCLink
○ Timeline playback / review
○ Object blurring tool
○ All cameras on one screen
○ Watermarked images
○ Driving analysis - G Sensor
○ Rapid analysis of footage
Find out more >>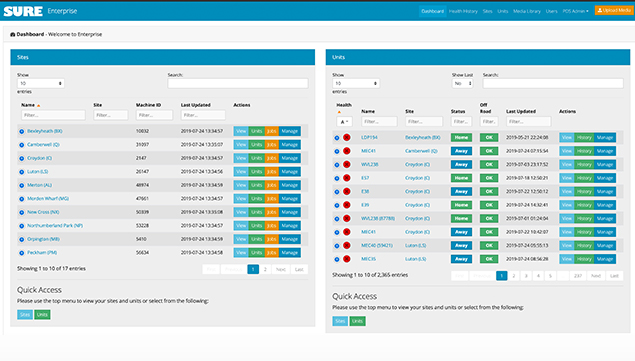 SURE Enterprise
○ Monitor entire fleet
○ Depot management
○ Consolidate health of buses
○ Deliver footage quickly
○ Allocate jobs to engineers
○ Video download/playback
Find out more >>