The Timespace R Series
"With 4 analogue camera inputs and 4 IP camera inputs, the R500 provides operators with the flexibility to incorporate high-quality IP camera recording into vehicle CCTV. H264 compression and a global recording rate of 120-Mbits/s ensure crystal-clear images, and SHA-2/AES-256 watermarking gives security of evidence. 
The R500 is fully compatible with Timespace's range of software and accessories. PCLink suite provides footage review and export, while LANLink provides fleet management, CCTV health information, and footage downloads.
Reviewing the video footage using Timespace PCLink software is quick and simple using time and date or alarm markers. Recorded files can be uploaded from the removable data cartridge, or remotely via wireless data transfer or mobile connection." (source)
Customer Benefits
○ Best of Breed Technology
○ Compatible with 4K and HD Cameras
○ H.264 Compression
○ Compatible with LANLink and PCLink for Live Viewing
○ 8 Independent Video Channels - 4* Analogue / 4* IP
○ Quick Installation
○ Built-in Power Supply
○ Up to 2TB of Storage for Video Files
○ E-Marked Approval
○ Compatible with other Timespace Accessories
○ Analogue / IP Channels Available
○ GPS, Wi-Fi  and G-Sensors
Get a Quote for your Vehicle Today!
Timespace R500 Digital Video Recorder
"The Timespace R500 hybrid recorder is ideal for use mobile and law-enforcement surveillance applications. Providing 4 analogue camera inputs and 4 IP cameras, the R500 gives users the option of high-quality IP camera footage." (source)
| | |
| --- | --- |
| | |
| | |
| | |
| | File Password Protection and Encrypted |
| | |
| | |
| | E11 E-Marked and R118 Certified |
| | |
| | |
| | |
| | |
| | |
| | |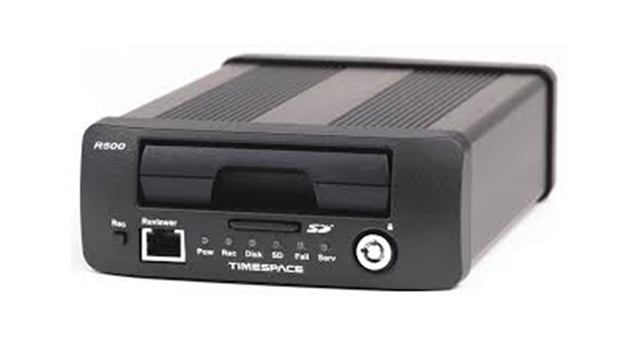 Timespace DVRR500
○ 8 channels
○ H.264 video compression
○ 2TB HDD cartridge
○ 4 analogue & 4 IP channels
○ Optional GPS, WiFi, 3G or 4G
○ 1080p / 4k cameras
Installation Instructions
The R500 is supplied pre-mounted on the Timespace Vehicle Mounting Plate System. This can then be screwed to a vehicle's mounting surface as required.
The DVR is designed to be mounted horizontally or vertically in any axis, but on a strict perpendicular angle.
It is necessary to leave clearance around the final mounted products. See X500 and R500 – Final Mounted Clearances Required for further details.


GSensor Configuration
The DVR's built-in GSensor must be configured during the installation process. Once the DVR is installed, the direction of the front and side panel must be set e.g. Front panel FORWARDS means the DVR front panel is facing the front of the vehicle, therefore the Connector Panel must be either LEFT, RIGHT, UP or DOWN depending on the mounting position. After configuring the DVR orientation, the GSensor readings must be zeroed using ZERO THE ACCELEROMETER in SYSTEM SETTINGS > GSENSOR > GSENSOR SETUP > ZERO THE ACCELEROMETER.
Get in Touch with us
Get in touch to request a quote for CCTV on your vehicle!