The Timespace X Series
The Timespace X series are a group of mobile video recorders that are ideal for the bus/coach, police, HGV and military application markets. The 4 channel X300's low power and 'silent operation' mode makes it the perfect fit for the police covert operations. The 16 channel X300 however combines all of the highly regarded features of the 4 channel with 16 channels of analogue video to provide the greater capacity for your larger vehicle market and this is why we offer the X300 alongside the industry proven DVRV400!
Customer Benefits
"Timespace Technology have been designing and manufacturing digital video recorders since 1998." 


○ Best of Breed Technology
○ H.264 Compression
○ Compatible with LANLink and PCLink for Live Viewing
○ 4, 8 or 16 Independent Video Channels with up to 200ips
○ Quick Installation
○ Built-in Power Supply
○ Up to 2TB of Storage for Video Files
○ E-Marked Approval
○ Compatible with other Timespace Accessories
○ Analogue / IP Channels Available
○ GPS, Wi-Fi  and G-Sensors
Get a Quote for your Vehicle Today!
Timespace X300 Digital Video Recorder
"The X300-16M has all the features of Timespace's highly-regarded X300, but with 16 channels of analogue video to provide greater capacity for camera coverage. Crystal-clear images combine with SHA-2/AES-256 watermarking to give security of evidence. As a drop-in replacement for X200 CCTV systems, the X300-16M is an attractive option." (source)


"From local authorities' fights against fly-tipping to long-term police investigations, the X300-04 provides an effective solution, with time-lapse, motion and alarm-triggered operation and the optional ability to view footage remotely via wireless data transfer or IP connection over 3G network."
| | |
| --- | --- |
| | |
| | |
| | |
| | File Password Protection and Encrypted |
| | |
| | |
| | E11 E-Marked and R118 Certified |
| | |
| | |
| | |
| | 2 inputs (X300-04) / 1 input (X300-16M) |
| | |
| | |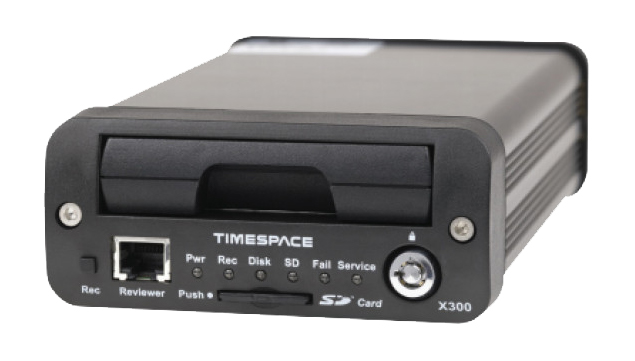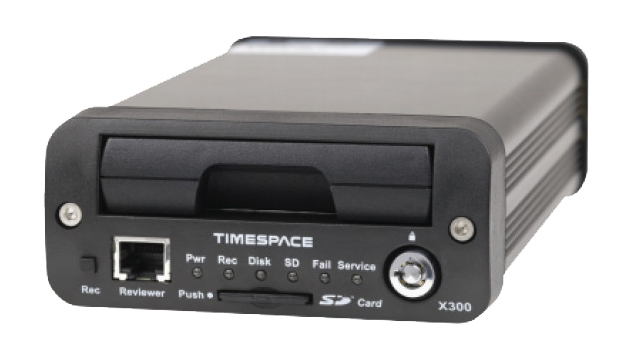 Timespace X300-04
○ 4 channels analogue
○ 720x576 (PAL)
○ GPS, LANLink & PCLink
○ 12V DC power supply
Installation Instructions
The X300 Mark 2 is supplied without any mounting kits. It can be used free-standing or it can be mounted using the 4 x threaded holes on the underside - mounting screw size M4, 0.7 Pitch, 12mm). Timespace can also supply 2 different vehicle mounting system kits if required.
The X300-16M is supplied pre-mounted on the Timespace Vehicle Mounting Plate System. This can then be screwed to the vehicle's mounting surface as required.
The X300 requires 12V regulated power. This can be applied to either via 12V DC jack socket or 12V screw terminals. 
X300-16M only - the built-in GSensor must be configured during the installation process. Once the X300 is installed, the direction of the front and side panel must be set in the GSensor setup menu e.g. Front panel FORWARDS means the X300 front panel is facing the front of the vehicle, therefore the Connector Panel must be either LEFT, RIGHT, UP or DOWN depending on the mounting position.
After configuring the X300 orientation, the GSensor readings must be zeroed using ZERO THE ACCELEROMETER in SYSTEM SETTINGS > GSENSOR > GSENSOR SETUP > ZERO THE ACCELEROMETER.
Get in Touch with us
Get in touch to request a quote for CCTV on your vehicle!